Your campaign goal will inform how you choose keywords to target. Since Google's Hummingbird update, your SEO strategy should be optimized based on the way people use search engines to achieve a goal. Sometimes that means completing a transaction, but more often that means finding a piece of information or answering a question. From a marketing perspective, there are three basic ways people use search engines:
To find a piece of information: These searchers are either not looking to buy anything, or are at the absolute beginning of a the conversion process. Informational searches often include words and phrases like "how to", "do I need", "where to find" and "what is". Don't count on these searchers to convert on their first visit to your site – they're just deciding if they want or need a product in the first place. However, since informational keywords make up the majority of searches online, you should still target these users and then use retargeting to convert them later.
To lean more about something: This sounds like the same thing as the first group, but these searchers are actually further along in the sales process. They've already decided they need a certain product or service and are trying to decide which is the best for them. They generally use phrases like "top 10", "comparison", "deals on", "cheap" or "review" in their keywords. Some of those words, particularly "deals" and "cheap" might look spammy to you, but the truth is they can help attract users who are right on the verge of buying so they can help you turn researchers into buyers.
To complete an action: Whether it be creating an account, signing up for an email newsletter, completing a contact form or completing a purchase, these people are using the search engine to complete a task. When they click on a search result, they expect to land directly on the page that will let them complete that task, so if they have to click through to another page on your site they're likely to bounce and not look back. These keywords don't see a lot of volume but they should convert like crazy.
At what part of the conversion funnel is your ideal buyer persona at? Do you want to target people just finding out about your industry, to improve your brand awareness and establish thought leadership? Or, do you want to let others do the heavy lifting and optimize just for conversion rate? There's no right answer to those questions and they're not mutually exclusive. If you want, you can run campaigns to optimize landing pages for each type of searcher to move users through the entire conversion process on your website.
Keyword Research
Use your SEO strategy to categorize your keyword research. Group your keywords by persona and intent, so you can keep in touch with your audience throughout the conversion process. Again, the best place to start here is your analytics. Dig into your organic search traffic to find keywords that best fit each persona and campaign goal. For a branding campaign, look at impressions, CTR and average position. You can get this data in your Google Analytics account by syncing it with your Google Search Console account.
If you're looking to optimize for conversions, add conversion rate and abandoned funnels to your analytics report.
Once you've gathered a few keywords per persona that are aligned with your strategic goal, do keyword research to expand your list. There are a lot of tools you can use here. To get an idea of organic traffic for keywords add them to WooRank's SERP Checker keyword tool. SERP Checker will show you estimated monthly search volume and your site's current and historical rankings for each keyword.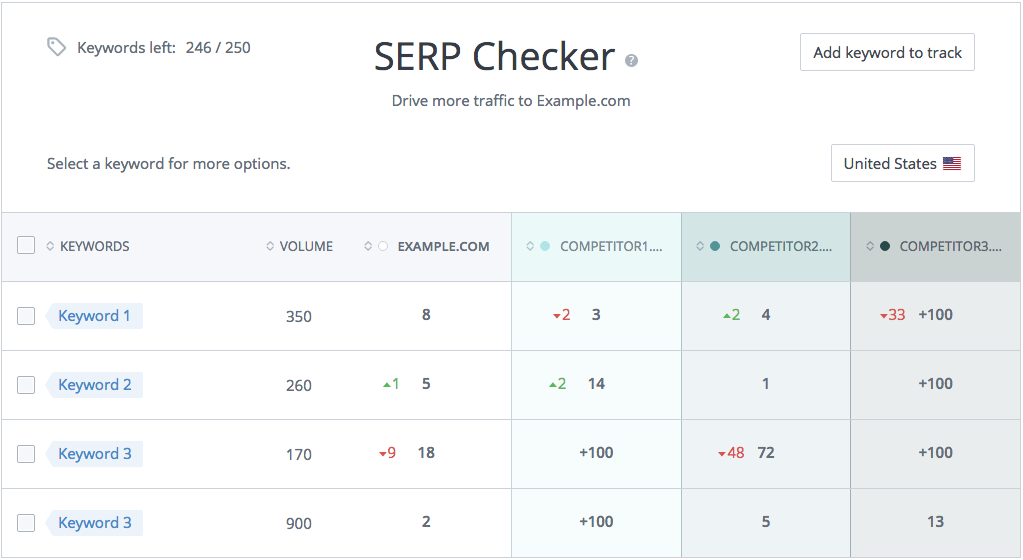 Plus, with SERP Checker, you'll avoid Google's data throttling in AdWords' Keyword Planner tool for accounts below a certain spend threshold.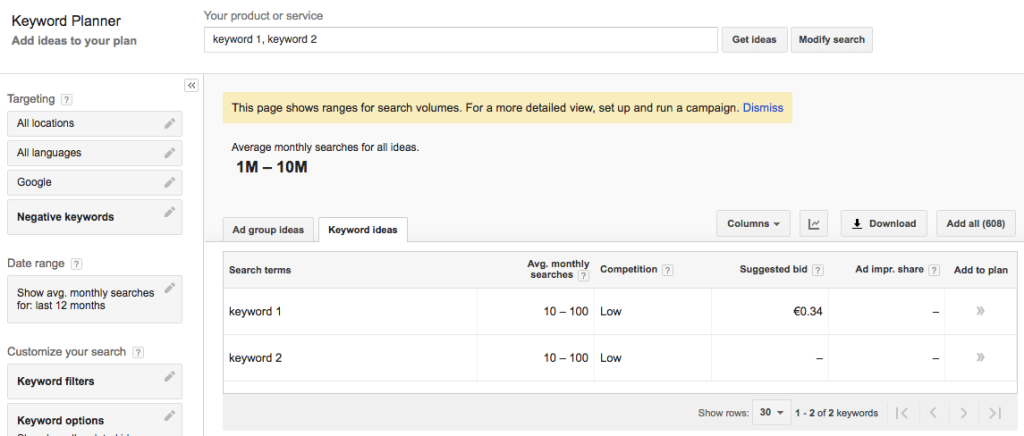 If you haven't created an Advanced Review with WooRank yet, Keyword Planner and Bing's keyword research tool in its Webmaster Tools are both available for free. Technically they're for PPC research but their data is applicable to SEO as well.